10th Anniversary Celebration of the Canonisation of St Mary of the Cross MacKillop
October 9, 2020
Canonised as Australia's first Saint of the Universal Church, 17th October 2010
Taking the theme "Take Fresh Courage" the Sisters of St Joseph have prepared the following virtual resources which can be found on the Sisters of St Joseph website.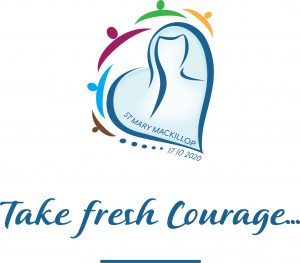 1. A prayer resource: "10 Moments of Prayer"
These prayers focus on ten events in Mary MacKillop's life and draw us to connect her experience with our own. This resource is available on the SOSJ Website.
2. The Hour of Courage
This hour of prayer, based on the theme "Take Fresh Courage", is pre-recorded and also  made available  to all via the SOSJ website.
3. Mary MacKillop Anniversary Video
A series of short inspiring videos to share on social media prepared by people from across the Josephite network. These videos are being shared on the SOSJ Facebook page during the month of October, leading up to the Anniversary on 17 October.