A Daily Cuppa with Mary and Julian 
October 1, 2020
Meditations with St Mary MacKillop and Fr Julian Tenison Woods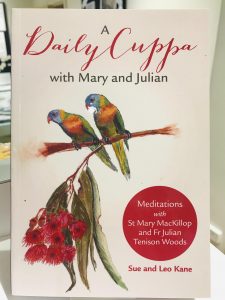 Author: Sue and Leo Kane  
 Price: $25.00 plus postage and handling
A book designed for those little pauses in the day, perhaps over a cuppa, that allow our souls to catch up with the rest of our lives.
A great gift idea for any occasion.
MMHC Gift Shop is temporarily closed to the public due to the COVID-19 pandemic. To order this book or any other items from our gift shop please email admin.mmhc@sosj.org.au.