St Mary MacKillop's 10th Anniversary
September 21, 2020

Canonisation Gift Pack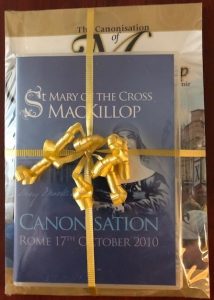 Price: $20.00 plus postage and handling
In commemoration of St Mary MacKillop's 10th Anniversary MMHC have put together a gift pack of the Canonisation DVD and a softcover copy of the Canonisation Souvenir book. Both the DVD and the Souvenir booklet were in commissioned by the Sisters of St Joseph in 2010.
Our Gift Shop is temporarily closed to the general public however your welcome to to place an order via email admin.mmhc@sosj.org.au.
10th Anniversary Courage Prayer Card and Poster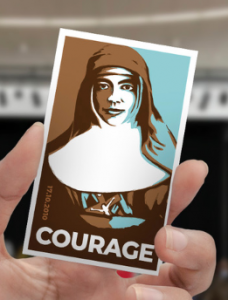 To celebrate 10 years since the canonisation of our Saint Mary of the Cross MacKillop we have special prayer cards and posters for sale.
The bold, modern, bright depiction of Mary links to her bold courage.
The brown colours signify the brown habit that Mary wore.
The teal links to the teal scarves that all the Sisters of Saint Joseph wore on the canonisation day.
These cards and posters are perfect for schools, young people, and those young at heart.
These Courage prayer cards and posters are only sold through designjane.com as shown in the images. More information and other items also on the SOSJ website.
Josephite Calendar 2021
The Josephite Calendar for 2021 is  coming soon. Details of how to receive an order form will appear on the MMHC website shortly.