Take fresh courage… Celebrating the 10th Anniversary of St Mary MacKillop's Canonisation
October 16, 2020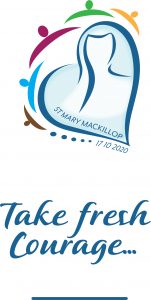 Prayer
Mary MacKillop join us in our gratitude on this 10th anniversary of your canonisation.
Be with us in this time of crisis in our world as we gather fresh courage around us for working in God's healing mission.
Keep us participating as a people of the gospel engaging with our neighbours for the good of all and serving with Christ in our common home.
Holy Spirit strengthen us.
Amen.
© 2020 Trustees of the Sisters of St Joseph