The Parable of the Good Samaritan
This Parable is one of the best known from the New Testament—the story of the stranger who came to the help of someone who had been assaulted and left, whereas, two of the leaders passed by ignoring him. He used his own resources to provide help and even returned to check up on him and pay any debt.

The rule of the Sisters of St Joseph stated that the purpose of the Congregation was to respond to the 'misery and wretchedness' of the 'bush children' and the 'afflicted poor'. Const SOSJ. This was primarily done by teaching in bush settlements, where there was no priest and the people could not afford to hire a governess. As well, works of mercy were set up to help adults to cope with poverty and old age.
There are some moving stories of Mary and the way she practised what Jesus taught in this parable.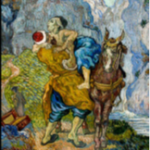 Mary and another Sister were walking along a street when they came to a woman, who appeared drunk. Mary was astute enough to see the woman was sick, helped her to a chemist who gave her something which helped her recover her illness.
Mary had suffered the loss of her teaching position, the respect of the priest and the people at the hands of Mr Cusack, who had been the headmaster at Portland. Walking along in Sydney, she noticed the down and out begging on the street was Mr Cusack. With the value of her watch she was able to help restore his dignity.
Mary was also concerned for the spiritual welfare of the people. She wanted them to know God as she did, a God who cared, who loved them even in their poverty and suffering, their sinfulness and wrongdoing. So her Sisters went where there were no churches, no Mass, no priest to nourish their own spirituality. She was not concerned with "getting people to come to Church" but felt the real need was for the Church to go out to them, to do things differently, to adjust some of its ways of thinking and acting. (How relevant is this of today's Church?)
---
TIME FOR PRAYER

Spend some time in silence reflecting on this painting.
What emotions rise in you?
Have you ever been like the priests who passed by?
How have you felt if passing by a homeless person begging on the street? Was that different or difficult?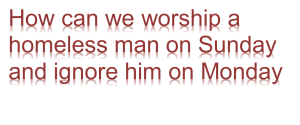 Do you think the man hurt, probably a Jew, would feel insulted being helped by a despised Samaritan?
What prayer arises in your heart?
 INTERCESSIONS:

RESPONSE:      Lord, in your mercy hear our prayer.
| | |
| --- | --- |
| 1. Help those who are homeless to find a place of safety and warmth | R |
| 2. Be with the women and children who find themselves in need of shelter | R |
| 3. May all travellers be safe and arrive at their destination | R |
| 4. Change the attitude of travellers who ignore those in need of help | R |
| 5. Bless all those who work to provide assistance to those in need | R |