Conversations with Mary
January 15, 2019
Commencing on Friday, February 15, MMHC is providing a unique opportunity for people who are interested to learn more about St Mary of the Cross MacKillop, a great pioneer and first Australian saint of the universal church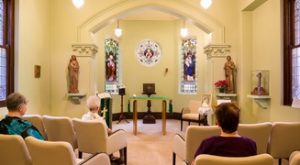 Sr Mary Fermio rsj will lead an hour reflection, prayer and discussion around aspects of the life and contribution of Mary MacKillop to our spiritual and secular lives. Following the time of reflection, prayer and discussion participants will join Sr Mary Fermio for light refreshments in our Refreshments area.
This is to become a regular event on the 15th day of each month (or the nearest Monday) in recognition of Mary MacKillop's birthday on the 15th January 1842 in Newtown (now Fitzroy).
This is a unique opportunity for people to learn more about Mary MacKillop.  The theme for 2019 is Mary MacKillop – Inspiration for Today.
Come along and bring a friend who may appreciate the opportunity to celebrate the life and legacy of St Mary MacKillop through reflection, prayer and discussion.
For catering purposes please RSVP by the Wednesday prior. Donations gratefully accepted.
For more information please contact MMHC on 03 9926 9300 or email Sr Mary Fermio rsj.