Little Lon
January 18, 2021
Author: Andrew Kelly, illustrated by Heather Potter & Mark Jackson  ~  Price: $25.00 plus postage and handling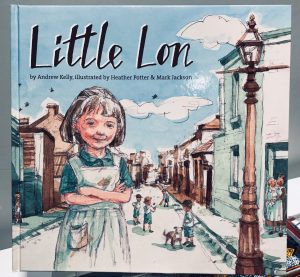 Marie and her friends sailed boats in the gutters, ate Mr Bracchi's ice-creams in summer and roast chestnuts in winter, all in the centre of a big busy city, behind fancy fronts of the main boulevards. Here lay the network of lanes and houses called Little Lon.
Times were different when Marie was growing up. The families may not have been rich, but they were a community.
A surprising history in every way.
There are a limited number of copies available in store signed by the author.
MMHC Gift Shop is open Monday to Friday 10.00 am to 4.00pm. To order this book or any other items from our gift shop please email admin.mmhc@sosj.org.au.