Mary MacKillop – A Great Australian
February 1, 2021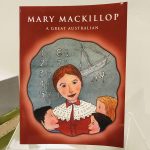 Mary MacKillop – A Great Australian
Author: Joan Goodwin   ~   Price: $9.95 plus postage and handling
On Saint Joseph's day 1866 Mary MacKillop exchanged her ordinary clothes for a simple black dress and dedicated her life to God and to the teaching and care of poor children. She was the Australian-born foundress of a religious congregation and is now Australia's first canonised saint.
Today her Sisters continue her work, not just teaching in schools but also caring for the poor, the sick and the homeless.
To order this book or any other items from our Gift Shop please email admin.mmhc@sosj.org.au.