Mary MacKillop Museum Gains Museum Accreditation
July 12, 2019
The Mary MacKillop Museum joins the 78 Victorian museums and galleries Accredited in Victoria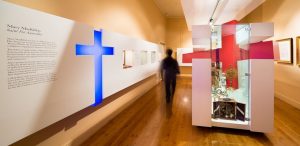 The Mary MacKillop Museum situated within the Mary MacKillop Heritage Centre (MMHC) in East Melbourne, has gained Accreditation by the Australian Museums and Galleries Association Victoria (AMaGA Victoria)The Museum was assessed on set criteria from the National Standards for Australian Museums and Galleries and now joins the 78 Victorian museums and galleries Accredited in Victoria.
The Mary MacKillop Museum is a place of inspiration, dedicated to the creative spirit and dynamism of Saint Mary of the Cross MacKillop's life and work and the work of the Sisters of Saint Joseph of the Sacred Heart. The Museum situated within the MMHC's heritage listed building, is just a short distance from Brunswick Street, Fitzroy where Mary MacKillop was born in 1842.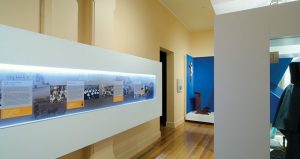 The Museum holds relics including a replica of the Reliquary from the canonisation ceremony as well as a Business diary, scapular and rosary beads owned by Mary MacKillop. Sacred vessels, textiles, including altar lace, vestments, hand-worked cloth, books, photographs, paintings, furniture and oral histories tell the story of Mary MacKillop with a particular emphasis on Victoria. The chapel and the museum's four galleries form the centrepiece of the visitor experience.
The commitment of Museum staff to the Accreditation process and the high standard of the exhibition spaces greatly impressed the panel who stated that 'the Museum's displays are a real strength; they are of the highest professional standard and include engaging content which balances imagery, objects and text'.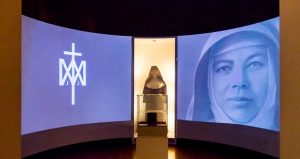 Simone Ewenson, Co-Manager, Museum Accreditation program AMaGA Victoria, says, "We are delighted to recognise the hard work and commitment shown by the team at the Mary MacKillop Museum. Caring for our shared heritage is an important task and by becoming accredited the Mary MacKillop Museum has proven to be a leading museum in Victoria."
A formal presentation of the Mary MacKillop Museum's Accreditation certificate, signed by the Minister for Creative Industries, was made at the 2019 Victorian Museum Awards held on Wednesday 26 June at the National Gallery of Victoria.
Group tours to visit the Museum can be arranged from Monday to Friday between 10.00am and 4.00pm. Organised tours can include morning tea, lunch and afternoon tea.
For booking please call MMHC on (03) 9926 9300 or email admin.mmhc@sosj.org.au