MMHC Temporary Closure
April 9, 2020
An important message to our valued guests,  friends and families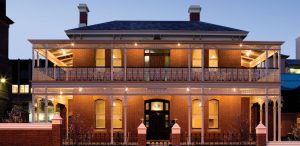 All of us – Sisters, staff, & volunteers – who are the public face of the Mary MacKillop Heritage Centre (MMHC), continue to pray for and reflect on the needs of all our many friends, regular guests & visitors during these challenging times. Like St Mary of the Cross MacKillop and Father Julian Tenison Woods who together co-founded the Sisters of St Joseph, we too place our faith and trust in God and in the Australian people.
Regrettably, the Mary MacKillop Heritage Centre is temporarily closed to the public until further notice. This is in response to the ongoing measures to contain the spread of the coronavirus (COVID-19).
Our museum, chapel, accommodation, meeting facilities, refreshments area, education programs, walking tours & gift shop will reopen to you our friends and families as soon as it is safe and we are permitted to do so. We are grateful for your continued support and we look forward to seeing you all again soon.
In the meantime, stay safe & well and pray to St Mary of the Cross MacKillop for God's intervention on behalf of us all during this challenging time for the world.