A Faith-Filled Family Mary MacKillop's Sisters & Brothers
March 26, 2021
A Faith-Filled Family, Mary MacKillop's Sisters and Brothers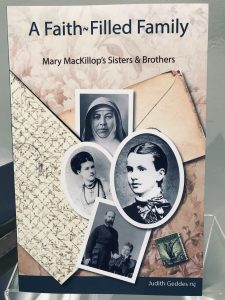 Author: Judith Geddes rsj
Price: $30.00 plus postage and handling
In this well-presented book, Sr. Judith has used formerly unknown correspondence between members of Mary MacKillop's immediate family and, in so doing, has introduced the reader to Mary's parents and siblings.
It is a story of an ordinary close-knit nineteenth century family for whom religion was very important, and is based on letters which, as Sr. Judith has put it, 'brought news, interest and connection being the primary means of communication between family members. On occasion, they brought bad news. At other times they showed an interest in the world and events that affected the writers.'
The author:
Judith Geddes rsj is a Melbourne based Sister of St Joseph. She has been a teacher and principal in schools in Melbourne and in Victorian country towns over many years. Currently Judith is Education Co-ordinator at the Mary MacKillop Heritage Centre, East Melbourne, where she facilitates programs for educational groups visiting the Museum. Judith has undertaken research in the Sisters of St Joseph Archives, discovering the wealth of Mary MacKillop's diaries and little known correspondence between various family members.