Devotions to St Joseph
August 30, 2021
Devotions to St Joseph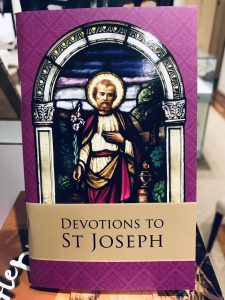 Author: Brian Moore SJ ~ Price: $7.50 plus postage and handling
Pope Francis wrote: "Each of us can discover in Joseph – the man who goes unnoticed, a daily discreet and hidden presence… a support and a guide in times of trouble".
Contents:
Morning and Night Prayers
Prayers for Holy Communion
To know Our Lord
For the spirit of the beatitudes
For devotion to Mary
In praise
For those in one's care
For one's friends
For priests
For one in need of counsel
For one's family
Intercessions to St Joseph for various needs
General intercessions
To St Joseph the worker
For the church
Self-dedication
The memorare of St Joseph
For the dying
Aspirations
For the church
For chastity
For protection
The October prayer for St Joseph
Litany of St Joseph
A novena to St Joseph
A scripture service
Our doors may be temporarily closed due the lockdown but we're happy answer any queries you may have. To place an order for this book or any other items such us medals, key rings, prayer cards, calendars or other great reads please email us at admin.mmhc@sosj.org.au.