Mary MacKillop "Daughter of Melbourne" Colloquium
A Colloquium exploring the Life and Spirit of Saint Mary of the Cross MacKillop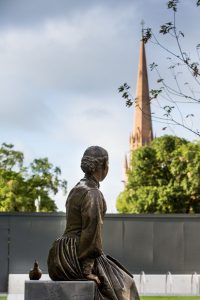 The word 'Colloquium' (kuh·low·kwee·uhm) comes from the Latin word meaning 'Conversation'.
While it is an opportunity to learn about and be touched by the life and spirit of Mary MacKillop, it is also an opportunity for people who work and minister in the tradition of Mary to explore and share the challenges and stirrings in their own hearts and lives , as they respond to this call in a new age.
As participants share their experiences of ministry, and their particular ways of interpreting the spirit of Mary in their work today they inspire and challenge each other to risk new purpose and new commitment.
The challenges facing Mary in 1866 are as relevant today as they were in their time. Their deep concern for those on the margins, their belief in the empowerment of each person, their hope in a world in which justice, peace and equality are worth struggling  for.
The Colloquium takes place across two days at the Mary MacKillop Heritage Centre with meals provided on both days. Limited live-in accommodation is available in one and two bedroom apartments for participants wishing to stay overnight.
The Colloquium comprises:
A series of input sessions
Participant exchange
Visits to Melbourne sites
Periods of reflection
Accreditation approval
2024 Dates:
Thursday 21 March & Friday 22 March 2024
Thursday 5 September & Friday 6 September 2024
Please note Thursdays commence at 9.30am and concluding with an evening meal. The evening meal is an important time together and a special part of the Colloquium experience. Allow 2hrs.
Fridays commence at 9.00am and conclude at 3.30pm.
Cost:
$350.00 per person (no accommodation)
$500.00 per person (with overnight accommodation)
Car Parking:
MMHC has limited parking. Parking would be made available for participants who have specific needs around travel, access and/or mobility/disability.
Fill the Form below to apply