Mary MacKillop's Birthday Mass
January 17, 2021 10:00 am - January 17, 2021 12:00 pm
You're invited!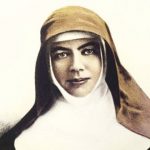 On Sunday, 17 January the parishioners of All Saints parish Fitzroy invite all of us to the parish to celebrate Mass at 10.00am.
Mass is followed by the 'cutting of the birthday cake' in the parish hall,  to celebrate the birthday of Saint Mary of the Cross MacKillop.
COVID-19 arrangements in place at that time will be followed.
For further information and to register your interest please contact reception at Mary MacKillop Heritage Centre on (03) 9926 9300.
Why not visit the Mary MacKillop Museum on her actual birthday – Friday 15 January!!!