Except in Obedience
September 4, 2020
Except in Obedience – The Diocesan Sisters of St Joseph in Victoria
Author: Marie Crowley
Price: $20.00 plus postage and handling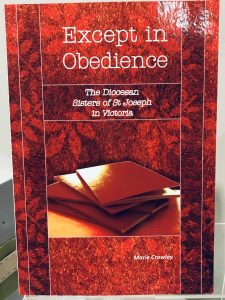 In 1890 the Perthville Sisters of St Joseph were asked to make a foundation in Bungaree, a small town in the diocese of Ballarat, Victoria, and to staff the existing Catholic school. After ten years of teaching and ministry in the district, the convent closed and the Sisters left the diocese. At the same time, in 1900, a community of Sisters of St Joseph from Tasmania made a foundation in Creswick, also in the diocese of Ballarat, where they staffed two schools. After fourteen years they too left the diocese. In exploring the history of these two foundations and bringing to life the characters who made the story, Except in Obedience draws together a series of complex events and intriguing personalities.
Marie Crowley has had a lifelong association with the Sisters of St Joseph, Perthville who commissioned her in 1998 to write the history of the Congregation Women of The Vale. Most of her professional life has been spent in teaching. She holds a Masters Degree in Theology (Melbourne) and in 2009 was awarded a PhD by the Australian Catholic University for exploration into the relationship between theology and art. She is presently employed by the Sisters of St Joseph, Perthville, as Congregational Archivist and Historian. Other works include The Carmelite Nuns of Parkes published in 2009.
Our Gift Shop is temporarily closed to the public but we're still taking orders via email admin.mmhc@sosj.org.au.