Islands of the Heart CD by Peter Kearney
January 18, 2021
Islands of the Heart CD by Peter Kearney ~ $25.00 each + postage and handling
Peter Kearney is singer, songwriter and recording artist. Peter's songs were first published in 1966. 'Fill My House' and 'The Beatitudes' became internationally known and are still widely sung today.
Peter's recordings are mainly acoustic, featuring fine musicians to accompany his voice and guitar. The lyrics are always important in Peter's songs. Many of his songs tell stories people worth remembering and celebrating. Fifteen collections of Peter's songs have been published, with a wide range of material including folk-hymns, justice ballads, fun songs for children.
Islands of the Heart features 15 tracks. Songs of the heart. Songs of justice and compassion. Stories in song.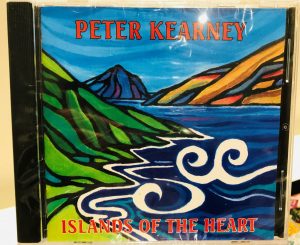 TRACK LIST: Title and Peter's notes on the songs
On a Day Like This / A bridge walk for reconciliation.
Islands of the Heart / "Guided only by our longing, looking for a place to start- pilgrims are we all to the Islands of the Heart". A tribute to Ireland and other 'deeper homes'.
Rise and Shine Road – A light-hearted song of life's journey.
Here's To You, Mum and Dad / An affectionate tribute to my parents… and yours perhaps.
Housewarming Song / An upbeat song.
Nothing More, Nothing Less / A song of love, gratitude and fidelity.
The Water of Life
Window on the Stars / The story of Lieutenant William Dawes, astronomer with the First Fleet 1788.
Once a Shearer, Now a Shepherd / A song with a suitably country feel – commissioned by his friends as an ordination gift for Mark Croker – late vocation, down-to-earth priest and reluctant prophet.
Someone Knows My Name / A song for Amnesty International.
Joy to the World, Jubilee / Protesting the 'murderous debt' carried by the world's poorest countries.
Bright Pearl Shining Path / A ballad telling of the life and death (1991) of Irene McCormack, an Australian Josephite sister who went to work in Peru.
Where To Now Edmund? / Conveying something the life and spirit of Blessed Edmund Rice, founder of the Christian Brothers
The Harvest – An Offertory processional song. I have put music to words by Dawn Smith of Cowra.
My Name Is Love / "My Name is Love and love is all I teach you. Believe me I can reach you if you only make My way."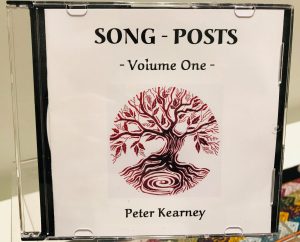 SONG-POSTS VOLUME ONE CD ~ $25.00 each + postage and handling
Song-Posts Volume One is a custom-produced CD containing 15 tracks. Each custom-CD is individually produced. Fifteen tracks burned onto a high quality disc, which comes in a slimline plastic jewel-case. Front cover with illustration by Dorothy Woodward. Full track list on inside cover.
Born Anew
There Is a Quiet (on Mary MacKillop)
All the World is Sacred
We Welcome This Child
John and Jesus
Here's to You Mum and Dad
Offering Song
For the Common Good
The Deaths Go On (Live)
Song for the Educators
Seasons of Life
Celebrate Me Day
The Magnificat / Mary's Song
Always There Father Ted
A King in Rags
Both CDs are available for purchase from MMHC gift shop. The gift shop is open Monday – Friday from 10.00am to 4.00pm.
To order a copy of the CDs please call MMHC reception on (03) 9926 9300 or email admin.mmhc@sosj.org.au