Mary MacKillop: The Ground of Her Loving
September 20, 2020
Mary MacKillop: The Ground of Her Loving
Author: Margaret Paton      Price: $15.00 plus postage and handling
First canonised saint of Australia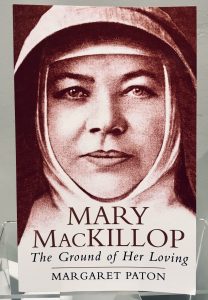 Mary MacKillop (15 January 1842 – 8 August 1909), of Scottish descent, was an Australian Roman Catholic nun who, together with Father Julian Tenison Woods, founded the Sisters of St. Joseph of the Sacred Heart. Dedicated to the education of the children of the poor, it was the first religious order to be founded by an Australian. On 17 October 2010, Mother Mary MacKillop became Australia's first saint, known as St Mary of the Cross MacKillop.
MacKillop's order of nuns built dozens of schools across the Australian outback in the 1800s, as well as orphanages and clinics for the poor. She was a strong-willed woman whose life was marked by disputes with church leaders. Bishops and priests attempted to disband her order and take control of the schools; on once occasion, she was briefly excommunicated for inciting her followers to disobedience, though the bishop responsible recanted five months later and she was completely exonerated.
Many books have been written about Mary MacKillop's remarkable life. In Mary MacKillop: The Ground of Her Loving, Margaret Paton delves more deeply into what inspired this great Australian, and her devotion to children and to the poor. She describes the articulate intelligence which enabled her to stand her ground against bishops, and her generosity of spirit which led her to forgive everyone who had wronged her. It is moving to read the loving advice Mary gave to the Sisters, to recognise her lack of self importance, and her openness to whatever was to be.
Paton draws out links with the spirituality of Ignatius of Loyola, Simone Weil and Evelyn Underhill, who wrote, as Mary MacKillop did, about the adorable Will of God. She also draws interesting comparisons between Mary MacKillop and Helen Prejean, with whom Mary MacKillop courageously shared a willingness to be with prisoners facing the death penalty.
Dr. Margaret Paton taught philosophy at Edinburgh University for nearly thirty years before coming to Australia in 1994. She taught Religion voluntarily in State schools and has written widely on Mary MacKillop. In 2007 she became affiliated to the Sisters of St Joseph of the Sacred Heart, an Australian order.
MMHC Gift Shop is temporarily closed to the public due to the COVID-19 pandemic. To order this book or any other items from our gift shop please email admin.mmhc@sosj.org.au.