Mary's Melbourne
September 8, 2022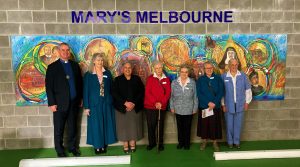 On September 7th, 2022 a newly designed and created mural was unveiled and blessed during the 120 year anniversary celebrations at the Mary MacKillop Heritage Centre by Sr. Geraldine Larkins and Archbishop Peter Comensoli.
Mary's Melbourne Mural was designed and created by Hullabaloo Studios, and it depicts Mary MacKillop's life in Melbourne from the time she was born. It also echoes the ministry of the Sisters of St Joseph in various places in Melbourne and Victoria. The mural will be used with students visiting, with the education staff having developed activities for students as well as audio narrations for the stories
The Sisters of St. Joseph of the Sacred Heart have had a presence at the site in East Melbourne since 1902 when the then Archbishop of Melbourne, Dr. Thomas Carr blessed the building.
Students from Thomas Carr College, Hoppers Crossing were part of the Ritual of Thanksgiving, adding their voice to the importance of being students of a College in the name of Thomas Carr.
Thomas Carr and Mary MacKillop both believed in the education for the poor, and channelled their ministry and energy to achieve this.
We take this opportunity to express our gratitude to the Sisters of St Joseph of the Sacred Heart for their spirit, vision and passion in providing safe places of learning, care and respite for marginalised people and in the most remote places.