MMHC OPEN DAY 21 November
November 11, 2020
Welcome back Melbourne!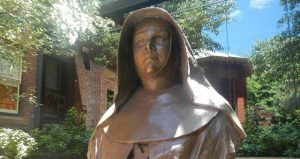 We are thrilled to be able to invite visitors to the Mary MacKillop Heritage Centre for our first and only Weekend Open Day for 2020 on Saturday 21 November between 10.00am and 4.00pm.
The Mary MacKillop Museum and gift shop together with the Chapel and our refreshments areas are open to the public as part of Melbourne's Coronavirus Recovery and the lifting of restrictions.
Visitors must register their name and contact details on arrival and adhere to our social distancing guidelines and the wearing of face masks.
Light refreshments are available in the Refreshments Area and our small group of Mary MacKillop Walking Tour with appropriate social distancing is available at 11.00am.
All areas of Mary MacKillop Heritage Centre will have reduced numbers to avoid crowding.
So please join us for this historic 2020 weekend open day celebrating the life of St Mary MacKillop "Daughter of Melbourne", and her contribution to our great city.
For further information and bookings for the walking tour please call MMHC on (03) 9926 9300.
MMHC OPEN DAY
Saturday 21 November 2020
10.00am – 4.00pm
362 Albert Street, EAST MELBOURNE