St Mary of the Cross Square
St Mary of the Cross Square is located opposite Mary's birth site in Brunswick Street Fitzroy and provides a public space within the surrounds of St Patrick's Campus of Australian Catholic University (ACU)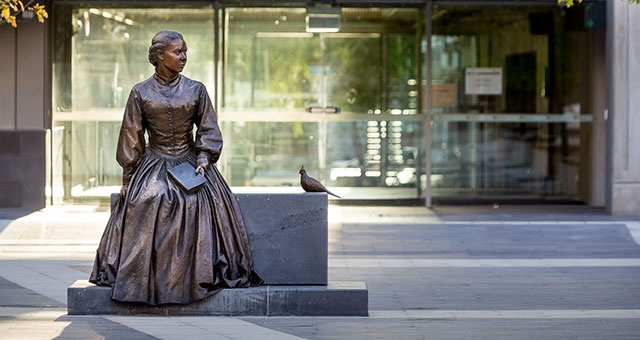 In the midst of this tree lined square is an inspiring statue of a young Mary MacKillop, created by Melbourne artist Louis Laumen. The statue embodies the idealism and aspiration of a youthful Mary MacKillop, as she gazes towards the place of her birth on the opposite side of Brunswick Street.
A series of bronze plaques depicting significant aspects of Mary's work, lead from Brunswick Street to the statue, then through to the entrance of St Mary of the Cross MacKillop Chapel in the Daniel Mannix building. The Chapel, designed in a contemporary traditional style, provides a peaceful place of worship and reflection.
This beautiful tree lined square and imposing Chapel is open to the public Monday to Friday from 10.00am – 4.00pm.